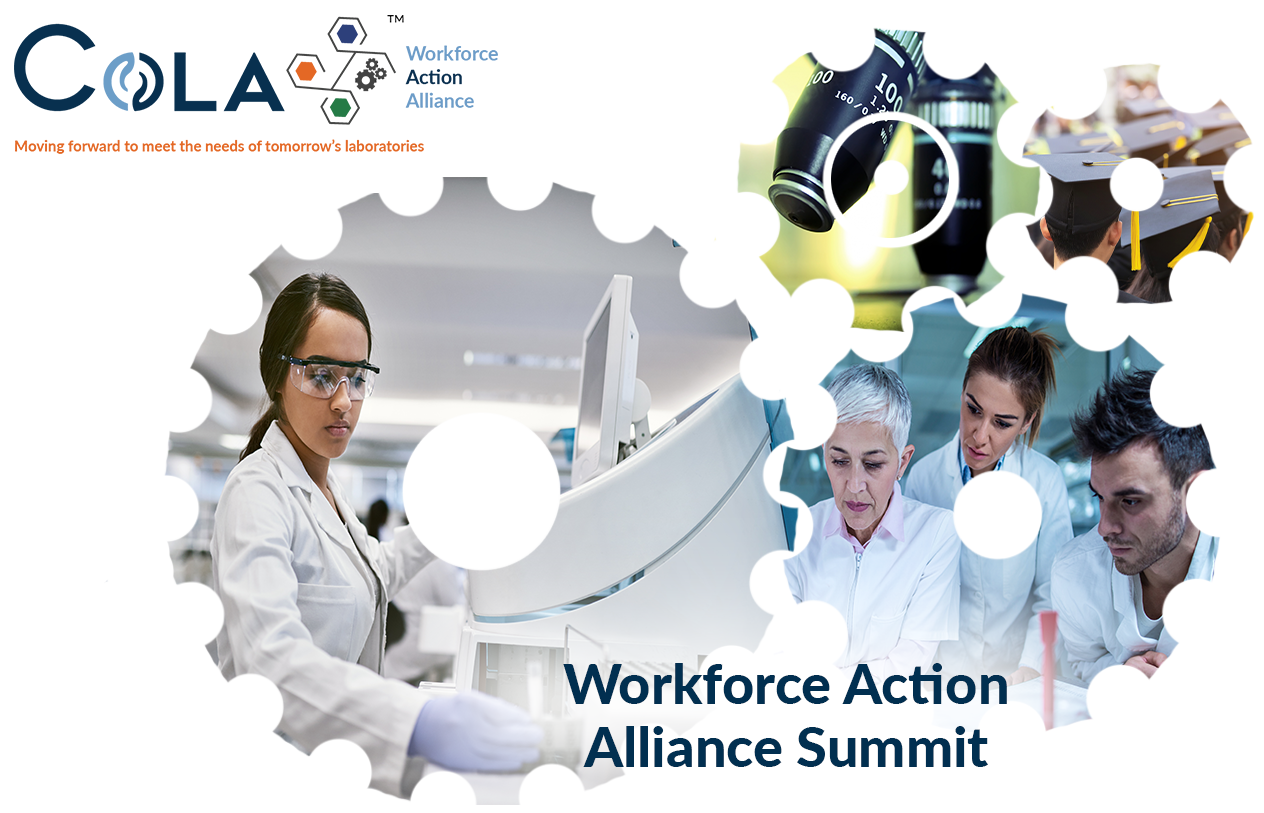 Save the date: Workforce Action Alliance Summit
COLA will host a one-day summit to showcase the key initiatives underway to address the workforce shortage in the clinical laboratory profession. We aspire to accelerate existing initiatives, cultivate new ideas and to energize and unify our efforts.
The Summit will be highly engaging. Participants will be invited to showcase their initiatives with ample opportunity for group discussions to be woven throughout the day to maximize learning with others and to create the conditions for collaboration.

May 2, 2023
9 a.m. to 5 p.m.
The Worthington Renaissance Hotel
Fort Worth, Texas
Addressing the Crisis Together
During COLA's 2022 Laboratory Enrichment Forum, a diverse panel of experts shared their strategies for addressing the current laboratory workforce shortage. It was a dynamic discussion and left many of us wondering what more can be done to build capacity and resiliency for the laboratory profession well into the future.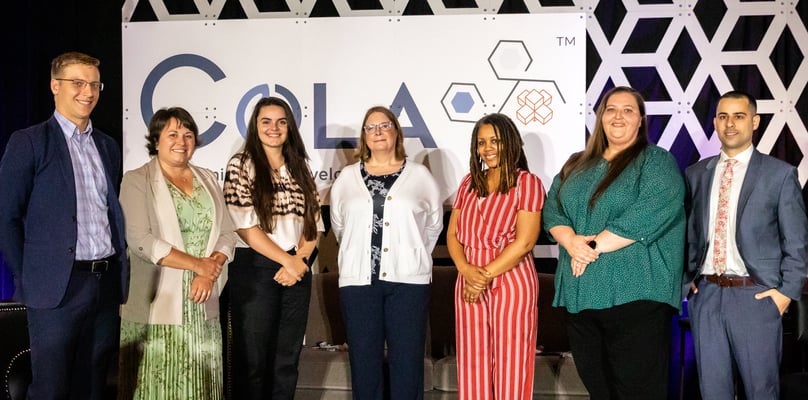 2022 Laboratory Enrichment Forum Workforce Shortage Panel
From left to right: Shawn Wierzbowski CEO of Intro, Jennifer Dalton, PMP, LabCorp Site Director, Martina Larkin, student at Central Piedmont Community College, Kathy Nucifora, MPH, MT(ASCP), COO of COLA, Quinn Riggs, student at Central Piedmont Community College; Nattasha Counta, MA, MLS(ASCP)CM, Program Chair of Medical Laboratory Technology, Central Piedmont Community College and Jesse Greenberg, MBA, Talent Acquisition Manager LabCorp


The fact is that many organizations, including COLA, are engaged in strategies, programs and activities to address this crisis at the local, state and national levels. Many of these innovative efforts can be used as models or can serve as a catalyst for something new. Whether you are learning about the initiatives for the first time or active in any one or more efforts, all are welcome. Come prepared to engage with your peers about how we can work together to address the laboratory workforce shortage!

The one-day Summit in 2023 will be held adjacent to COLA's Laboratory Enrichment Forum. We believe the timing is ideal to convene the stakeholders, and at the same time attract new champions to the effort. As the host for the Summit, we recognize the efforts of many organizations and hope to combine these synergies into a Planning Committee to assist in the design of the Summit.


The planning will occur over the next several months and more information about the Summit will be coming soon. For now, we encourage you to add this important day to your calendar.
Current Members of the Planning Committee for Summit
Kathy Nucifora, MPH, MT (ASCP), Chair, COO for COLA
Edna Garcia, MPH, Senior Director, Scientific Engagement & Research, ASCP
Mark Birenbaum, Ph.D., Administrator, NILA & AAB
Jim Flanigan, CAE, EVP, ASCLS
Kelly Winter, Ph.D. Chief of Training & Workforce Development Branch, CDC
Christine Bean, Ph.D., MBA, MT(ASCP), Chief Learning Officer, APHL
Aubrey MJ Wanner, CEO & Executive Director for NSH
Amy L. Leber, Ph.D., D(ABMN), Director, Clinical Microbiology and Immunoserology Nationwide Children's Hospital, representing ASM

---
You are also invited to join us at COLA's Laboratory Enrichment Forum being held May 3-4, 2023. All-day, both days at The Worthington Renaissance Hotel Fort Worth, Texas.