COVID-19: Staying Informed and Staying Safe
COLA recognizes that, during this challenging COVID-19 pandemic, healthcare facilities will need to focus their resources on keeping patients and employees safe. We continue to encourage everyone to follow recommendations for slowing the spread of the virus:

• If you are sick, stay home; and notify your employer.
• If you have to cough, cough into a tissue; if a tissue is not available, cough into your sleeve, rather than your hands.
• Wash hands frequently with soap and water for at least 20 seconds. If you are not near a sink, frequently use hand sanitizer with an alcohol content of at least 60% as an alternative.
• Avoid touching your eyes, nose, and mouth, as pathogens can enter the body through your mucous membranes.
• Disinfect surfaces that are frequently touched such as grocery cart handles, doorknobs, light switches, and airplane tray tables, with disinfecting wipes.
• Practice "social distancing" by avoiding handshakes and close contact with others.
• Avoid crowds.
• Follow all directives coming from your state and local governments.

For additional information about COVID-19, we encourage you to visit the CDC website. This website includes updates on the latest developments on travel restrictions, prevention, risks, infection rates and specific information for healthcare professionals.

If you are a COLA laboratory, we also encourage you to visit COLAcentral for more updates and information on COLA's response to the pandemic. As always, we value our communication with our customers and we will make every effort to keep you well-informed about any further adjustments to our business operations which may be needed in the coming weeks.
We appreciate your support.

Sincerely,

Nancy Stratton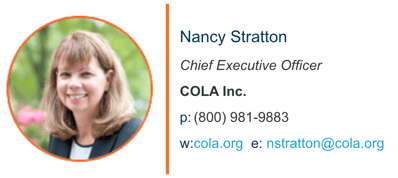 Additional Essential Resources
Click here for FREE access to more useful resources
Frequently visited cola.org pages:
Learn more about how COLA Inc. can provide you with the tools to run a quality laboratory